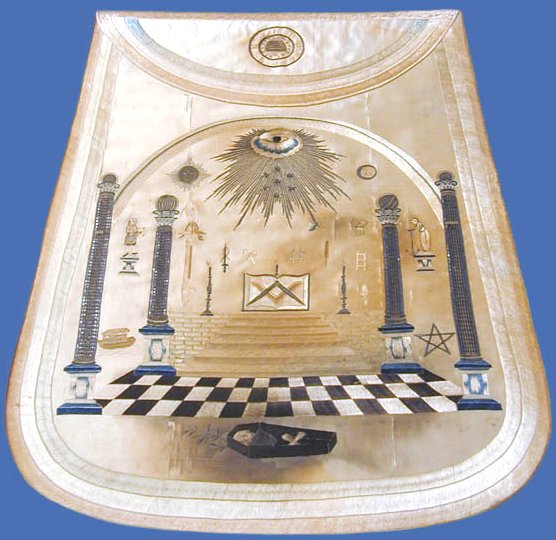 George Washington's Apron
On Saturday afternoon, March 21, 518 Masonic lodges across the state of Ohio will be having open houses allowing the general public to visit their often historic buildings and visit the haunts of generations of leaders of Ohio communities.
A couple Notables
In Cincinnati, the temple at 317 E 5th Street (adjacent to the Taft Theater) will be open. This building hosts the NC Harmony, McMillan, Kilwinning, Cincinnati-Lafayette and Caliburn lodges. The building was built in 1928.
In Clifton, at 218 Ludlow Avenue the Hanselmann and E.T. Carson lodges will be welcoming visitors to their building which, according to the HamCo Auditor's site, has been there forever.
Enoch T. Carson (1822-1899), from Cheviot, was a Hamilton County Chief Deputy Sheriff and Collector of the Port of Cincinnati. He served on several city and county boards and commissions, including Education, Parks, and Police.
Springfield's Masonic Temple, at 125 W. High Street, built in 1927, was just placed on the National Historic Register in December.
It hosts the Clark, Anthony St Andrew's and H.S. Kissel lodges.
Harry S.Kissel, of course, was the real estate financing pioneer, a founder of the National Board of Realtors and seminal developer of the Ridgewood area of Springfield.
This
Noose Son article describes some of the details of the Springfield Temple.
While speculation about conspiracies, the deep, dark mysteries and secrets of the Freemasons are fun (loved National Treasure), the fact that our nation was founded on many of the tenets of Masonry is undeniable and the civic work of countless Masons has been an invaluable boon to our communities. March 21st gives everybody a chance to get a glimps of this heritage.
Probably shouldn't expect any super secret decoder glasses, tho.....
To find an open house near you, you can use
this handy search tool
.